Google Play or Play Store is the world's largest app store, with over 3.5 million apps divided into 32 categories. Overall, 77 languages are available in Google Play, and there are over 3 billion Android devices that app marketers try to reach with their apps.
The concept of app store optimization or ASO refers to the set of tactics and methods that app publishers use to achieve high app rankings, get more downloads and improve their KPIs inside the Play Store. Like Apple's App Store, Google Play also uses an algorithm to identify, find and rank high-quality apps for its users. The algorithm uses direct and indirect factors that carry different weights and may impact the success of your app differently.
This article will help you understand the most crucial ranking factors for Google Play ASO and will help you to start working on your app's organic traffic. Big apps and publishers use app store optimization to succeed with their apps, so if you want to start competing with them, keep reading.
How does Google Play ranking works?
Google Play uses keywords as a starting point to understand the users' search intent. The search algorithm uses the search queries to check for apps that need to satisfy a couple of main criteria to have a chance to appear in the search results.
To choose the proper order of the ranking apps, Google Play keeps an index of apps, primarily based on the keywords placed in metadata. An app has to be relevant for ranking by using the right set of keywords in the metadata. The same app also needs ranking strength based on other factors such as the number of ratings, downloads, conversion rates, retention, etc.
The more successful you are with providing Google Play with the correct information about your app and at the same time having a quality app with an excellent user experience, the higher the chance to get and keep high rankings.
Now that you understand the basic principles of Google Play ranking, let's look at the ranking factors.
Sidenote: Google Play Search is the most significant source of traffic for the majority of apps. However, your app can also receive traffic from Google Play Browse (users who find your app browsing in Play Store) and third-party referrers (users coming from untagged deep links). The success in one of these sources will influence the ranking algorithm to give you an additional boost with another source.
What are Google Play ranking factors?
Google Play ranking factors can be direct or indirect. The direct factors consider keywords and their placements, while indirect factors are not directly related to keywords. Let's have a look at each of them.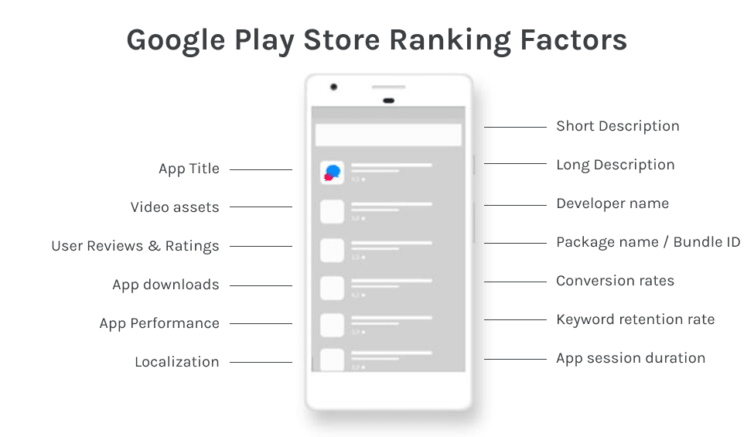 App title
App title is the most important ranking factor in the Play Store. Make sure to place your most important keywords in the app title and that keywords are aligned with your brand name. There is a maximum of 30 characters that you can use, so plan carefully which keywords you will include. Placing keywords at the beginning of the app title will give them a bit more weight, but you also need to ensure that your brand name is spotted early on and aligned with Google Play guidelines.
Short description
The second most important ranking factor is the short description that gives app marketers more chances for keyword rankings. You have a maximum of 80 characters to give your users more information about your app. Although it is tempting to spam this field with keywords, we suggest thinking about your audience first and then aligning your message with relevant keywords for your app.
Long description
The long description consists of 4.000 characters that you can use to write about how your app works, administrative information, details about your features, etc. Google Play will index the keywords in the long description, but most of your store listing visitors won't read it. That is why putting the most relevant information in the first five sentences before the "show more" button is crucial. There are no specific rules about the keyword density, but we suggest you pay attention to your most important keywords and include them in the text several times.
Developer name
The developer name is shown below the app title in the Play Store. The keywords used in the developer name are indexed, and you can update the developer name whenever you want in the account settings in the Google Play Console.
Package name / Bundle ID
Every app in Google Play has a unique package name. You can use that name to put the most important keywords inside for an additional keyword boost. Our experience shows that the package name has less impact than before, but it is still a relevant ranking tactic. However, package names can't be changed, so you have to consider the keywords you want to put inside the package name as you launch your app for the first time.
User ratings
User ratings are one of the essential ASO factors but are not under your direct control. However, the user experience and your app quality will massively influence how users perceive your app. The more positive the experience they have, the more likely they will reward your app by leaving a high app rating. What truly matters for Google Play is how many ratings you receive and the average ratings. The ratings your app receives are visible in the search results and heavily impact the install conversion rate. Also, the user ratings help your app get featured and reflect the quality, which is why you should work proactively on obtaining user ratings.
User reviews
User reviews reflect primarily the quality of your app measured by the user feedback. The reviews are often combined with user ratings because many users will want to rate your app and leave their feedback. Users who enjoy your app will give you good feedback, and the ranking algorithm indexes the keywords they use to describe their feedback. Although you can't influence what people write, you should always reply to bad reviews and address user concerns. The unhappy users can change their ratings and review if they feel you helped them with their problem.
App downloads
The number of downloads your app receives is a significant signal to Google Play that shows your app is relevant to the users. What also matters is the download velocity and the keywords that attract downloads. The more you work on keyword optimization, the higher the chance you receive downloads from those keywords, which helps with your app store performance.
Conversion rates
If your Google Play listing has properly optimized metadata and asset visuals and receives impressions from the audience, your app will start receiving store listing visitors. And if those store listing visitors use specific keywords to come to your listing and download your app, it will signal to the ranking algorithm that your app is a good fit for particular keywords. That is why it is vital to always look at the complete user funnel and work on improving the conversion rates for each step users make on their journey.
App performance
Google Play uses Android vitals to assess an app's health and from the technical and user experience. Android vitals consider a range of technical thresholds, and among the most crucial ones are ANR rates (app not responding) and app crashes. Low values can impact the keyword rankings and bring fewer installs, which is why you should monitor them continuously. If you notice warnings in your Google Play Console, ensure to address the issues on time with your developer team before users complain about your app performance.
Keyword retention rate
The app retention rate is another significant signal to Google Play. If users install your app but then remove it from their devices in a short period, it shows that your app is not the best fit for what users look for. Additionally, Google looks for the keywords that bring installs and the app retention rate. Although you can't control this, you should constantly monitor your app retention rate. If you have lower retention than your peer groups, your app is not fulfilling user expectations. At that point, you should consider improving your app or test keywords that might come with higher retention rates.
Localization
Localization hasn't been confirmed as a ranking factor, but it significantly influences conversion rates. Local users like to see the apps in their language and are likelier to install a localized app. As a result, the localization of your store listings results in higher conversion rates and could help Google Play by giving an advantage to localized apps vs. non-localized ones.
App session duration
App session duration is not a ranking factor but could give Google Play information on user signals. We believe the ranking algorithm can recognize if users launch an app after installing it. Based on that, the duration of sessions and the number of sessions could be a potential ranking factor.
Video assets
While promo video in Google Play is not a ranking factor, Google Play suggests video assets because they help users understand the app better. Even if a promo video is not a ranking factor, you should always test your store listing performance with and without the video.
How to rank higher in Google Play?
If you want to rank higher in Google Play, knowing what matters is just the first step. You need to build an ASO strategy that guides your efforts and work consistently on improving your store listings.
We already mentioned that keywords contribute massively to app store rankings. That is why you should start thinking about the keyword optimization process. Many ASO experts will suggest you divide keyword strategy into four main categories:
Research the keywords by talking to industry experts, your team or by using tools
Classify and prioritize keywords based on their relevance, popularity, and competition
Decide how and where you will target those keywords
Measure the impact of your efforts and track the results and effects
For the maximum impact, you will want to combine your keyword strategy with other tactics, such as improving your conversion rate. Your Google Play app icon, screenshots, and promo video are essential for attracting users and significantly impacting conversions. You will want to test different visual assets and keep those that will attract the users.
A big part of your daily ASO efforts might be user management. Make sure to dedicate some of your resources to communicating with your app users and working on improving their experience.
Many apps have an international audience, which is why you need to consider the localization of your store listings and if your app installs are influenced by seasonality. The more relevant your app is to your audience, the more likely you will experience higher conversion rates and climb the ratings.
If you have a quality app that attracts many positive user ratings, you will have a good chance of being featured, which can impact your traffic and your rankings. Just remember that ASO requires continuous effort and that you must work on it all the time if you want to climb into the Play Store.
The importance of tracking keyword rankings
Tracking keyword rankings are among the most critical ASO tactics. If you don't know what you rank for, at which position, and how important a particular keyword is, then it will be almost impossible to improve your Google Play rankings. Especially when you make changes to your store listing, you will need to track the effectiveness.
The Google Play algorithm usually takes more than one day to index your new keywords. You will often notice that after you make a store listing update, your current and new keywords will fluctuate for some
Monitoring your keyword rankings and their positions has to be on your daily or weekly list of activities. If you jump from position #50 to position #3 doesn't mean a lot of people don't use that keyword. Or if your rank at position #15 for a high volume keyword. As a rule of thumb, ranking lower than position #10 in Google Play will probably not impact your KPIs, and your keyword rankings should contribute to KPIs.
In short – paying attention to keyword rankings will ensure that you identify, prioritize and work on pushing the keywords important to your business.
How many downloads do the best Android apps get?
The mobile app community is often interested in the number of downloads you need to get to be among the top apps. Google Play and App Store calculate top chart rankings, consisting of the top apps in their category. The formula for calculating those top apps includes mostly download velocity or download revenue, user engagement, and star ratings.
Top chart rankings are calculated on a daily level and are very volatile. The research shows that less than 25% of apps in Google Play stay among the top 100 during a year. It is normal to see new apps jumping up and down for more than 50 places in one day. So if you are trying to climb up in the rankings in your category, you can start by looking at the most popular apps in the top charts for your category. This analysis will help you understand what your competitors do and the competitor benchmark.
For example, here is the list of the top games in Google Play in May 2022, measured by downloads.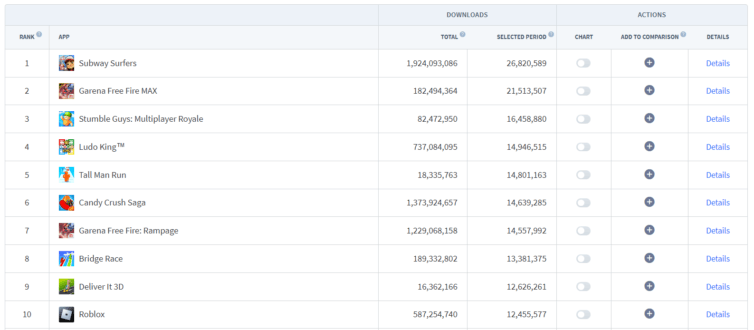 If you have a game app that competes with one of these apps, you must think carefully about your ASO strategy and long-tail keywords that you can rank for.
To optimize your app and get more rankings in the Play Store, you will need to use the mandatory tools and also the tools that save your time and provide ASO insights. The mobile app industry is flooded with different tools that promise high rankings and quick results, but the reality looks different.
For a start, you will need to get yourself familiar with the Google Play Console. If you want to publish an app listing in the Play Store, you must provide metadata information and the mandatory number of store assets (app icon and screenshots). However, Google Play Console offers much more for app marketers. There are many possibilities to analyze your conversion rates, app performance, and user management, including A/B testing experiments, custom store listings, etc. These topics are beyond the scope of this article, but make sure to check our ultimate guide to Google Play Console.
The other type of tool that you should use is the ASO tool. It will save you a lot of time and provide you with information on competitors, keywords, conversion rates, and everything else you need to work on to improve your Google Play rankings. There are many ASO tools in the market, and App Radar is one of them. We are a bit biased, but you can find almost everything you need to optimize and grow your app in the App Radar platform.
Finally, if you are investing in app campaigns and paid user acquisition, you might consider using a mobile measurement partner (also known as MMP or mobile attribution tool). These tools can be pretty expensive but are definitely worth the money. However, if your primary focus is app store optimization, App Radar integrates with Google app campaigns, so you can monitor your organic and paid traffic in one tool.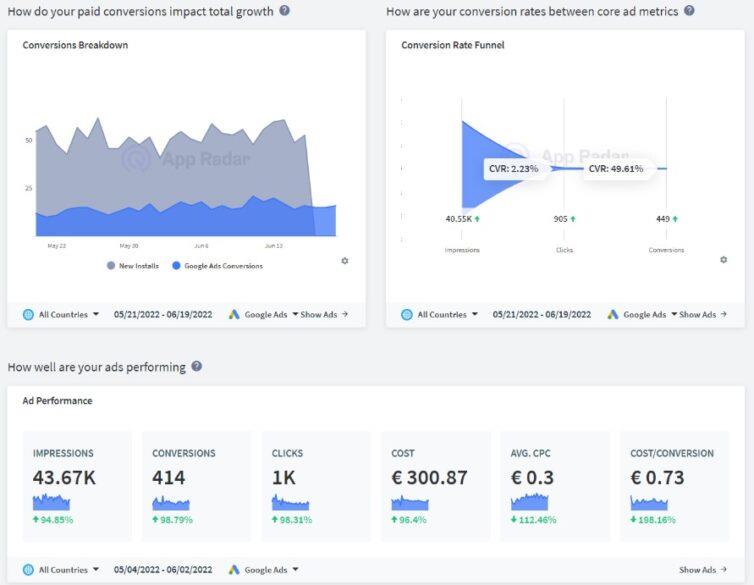 Do paid campaigns influence Google Play rankings?
Paid campaigns play a significant role in user acquisition, and many app marketers use them to complement their ASO efforts. Could they also influence your organic rankings in Google Play? The answer is yes, but indirectly.
We mentioned in the above section that downloads your app receives are a quality signal for Google Play and that downloads influence rankings. Assuming that your paid campaigns are bringing you downloads and installs, your app will get an additional boost in the Play Store. The result will be increased visibility in search results and the browse category.
More visibility will bring more users to your organic store listing, and many will bring you organic downloads. So paid campaigns, if executed correctly, can initiate a growth loop that reinforces your existing marketing efforts.
Final advice on ranking in Google Play
To grow your rankings in Google Play, you will need to get the fundamentals first. Start by working on your ASO strategy first. Create a keyword optimization process where you research, implement and test keywords that have search potential relevant to your app
At the same time, work on the store visuals to improve the conversions from impressions you get in search results to store listing visitors and from there to downloads. This is a process that requires time and patience and needs to work with all of your localizations. You will want to localize your store listings to appeal to the local audience and increase the chance of installing your app.
Work actively on improving your app ratings and on replying to user reviews. The more helpful you are, the higher your chances of receiving high ratings. Once your app collects many high ratings, you will have a much better chance of getting featured, influencing your rankings, and bringing you more downloads.
Finally, you need to know what works in your industry and why your competitors rank high. Understand what ASO tactics your top competitors use and why they rank high. If you are starting, aim for long-tail keywords with enough search volume to bring you, new users. To do all that, make sure to have the right tool in place that you can use for keyword optimization, competitor analysis, store listing updates, and user management.
App Radar has many tools inside its platform that can give you a competitive edge. Test it for free for 14 days, and you will see how much it helps with app store optimization.
Grow Your Apps with Less Effort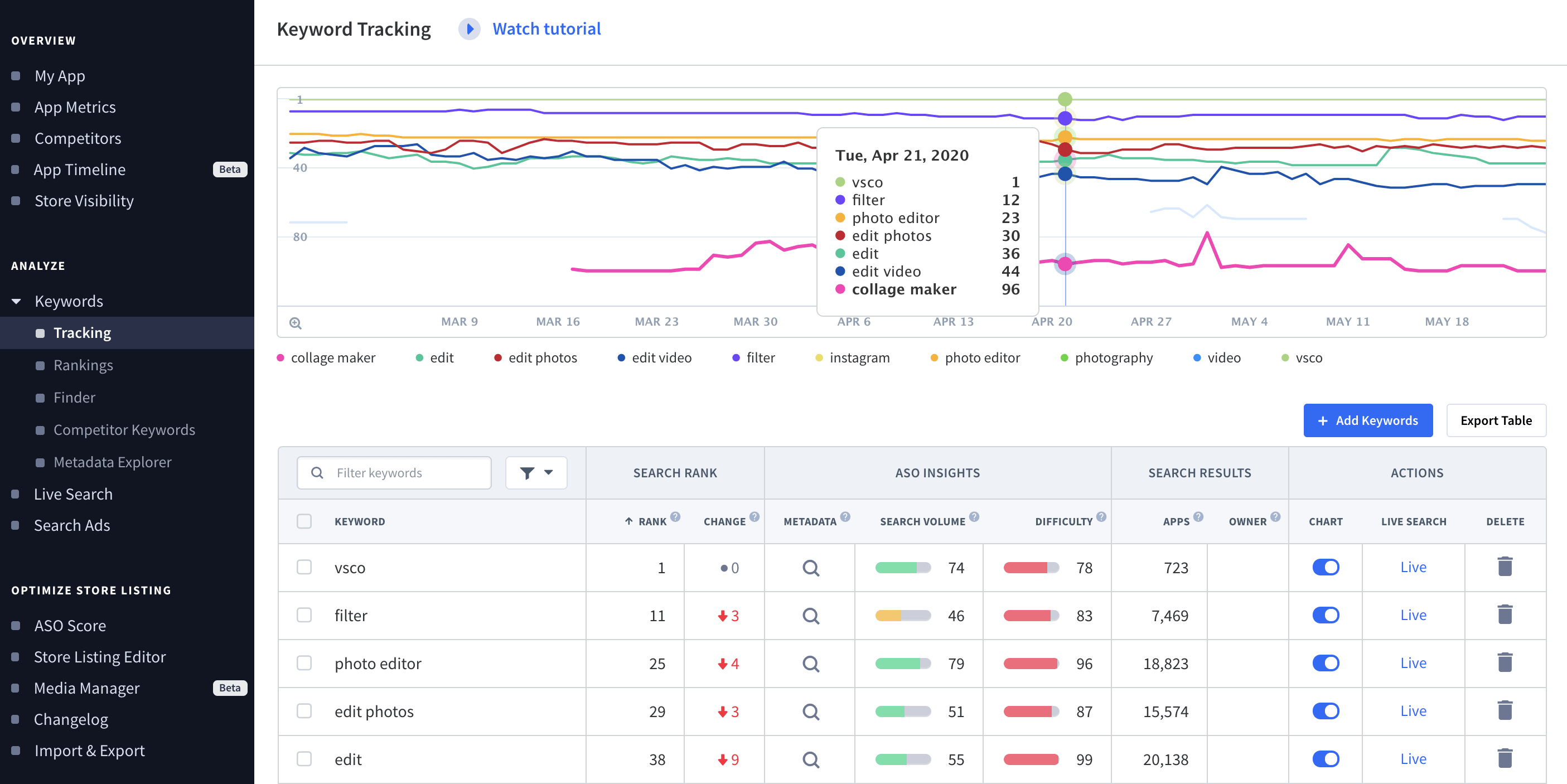 Find new keywords. Optimize all localizations. Spy on competitors. Track ASO changes.
console google play,
play console,
google play developer console,
play store console,
google play developer,
playstore console,
google play store console,
google play console login,
android developer console,
google developer account,
play developer console,
play store developer,
google play developer account,
google console account,
google play store developer,
console playstore,
play store developer console,
google play console sign in,
google app console,
android developer account,
google play dev console,
google developer account sign up,