Google Play Store is among the two largest app stores for mobile apps globally. According to Statista, over 3.5 million apps were listed in the Play Store in April 2022, significantly more than 2.2 million apps listed in Apple's App Store, the second-largest app store.
The mobile apps in Play Store are divided into 32 categories and 77 languages, with over 3 billion Android devices out there. To be successful with your app in the Play Store, you need to cover app store optimization, app campaigns, and social media and work actively on several other user acquisition tactics.
In this guide, we focus on app store optimization or ASO – the most fundamental area for growing your app in the Play Store. The article covers all the elements that well-known apps and category leaders use to reach top rankings and get organic downloads. Understanding the essential elements in the Play Store and how to optimize them will help you lay the foundation for the long-term success of your mobile app.
Before we dive into the details, here is what we are covering in the guide:
Ranking factors Google Play uses to rank your app
Play Store metadata – app title, short and long description, developer name
Creative assets and visuals – app icon, feature graphic, screenshots, and promo video
User management with ratings and reviews
Technical optimization with Android vitals
Play Store promotional tactics such as pre-registration and getting featured
Google Play Console and how it helps app marketers
Let's look at each of these elements and why they are important.
Google Play Ranking factors
Google Play uses many different elements when ranking apps. The most important concept is that people use keywords to find apps. Google's algorithm then checks which apps have those keywords in their metadata and how relevant those keywords are for different apps.
There is a common belief that app store optimization or ASO for apps is similar to SEO for websites. While they do share some fundamental principles, many aspects are still different.
The list of elements that Google's algorithm uses to rank keywords includes:
Keywords in the app title, in the short description, and in the long description
Keywords in developer name, package name, and user reviews
Number of downloads, keywords used to download an app, and download velocity
Number of ratings, star ratings, and user reviews
The conversion rate of a keyword used for app downloading
App performance and stability when users use your app
Secret factors
Metadata importance for keyword rankings in Google Play Console
Metadata type
Expected weight for ranking (on a scale 1-5)
Title
5/5
Short description
3/5
Long description
3/5
Developer name
2/5
Package name / Bundle ID
2/5
User reviews
2/5
In-app purchases
Not used
In-app events
Not used
Primary category name
Not used
Developer replies to reviews
Not used
What's New text
Not used
Visual assets captions
Currently not confirmed
Visual assets file names
Currently not confirmed
Metadata importance for keyword rankings in Google Play Console.
Based on our experience, most of the Google Play ranking factors are already well known, but that doesn't mean that ranking in the top positions in the Play Store is easy. App marketers must continuously research new keywords, prioritize the most relevant keywords, target them, and measure their performance.
App store optimization for Google Play is a long-term process that requires strategy, resources, patience, and testing. Once you establish a keyword optimization process, you can work on optimizing other elements as well.
App title
App title in Google Play is the most critical metadata element in app store optimization. To be more specific, the keywords you add to the app title are likely to have the most significant impact on keyword eligibility and relevance.
As we mentioned before, Google first needs to associate your app with a particular keyword and then evaluate how much the app is relevant for that keyword.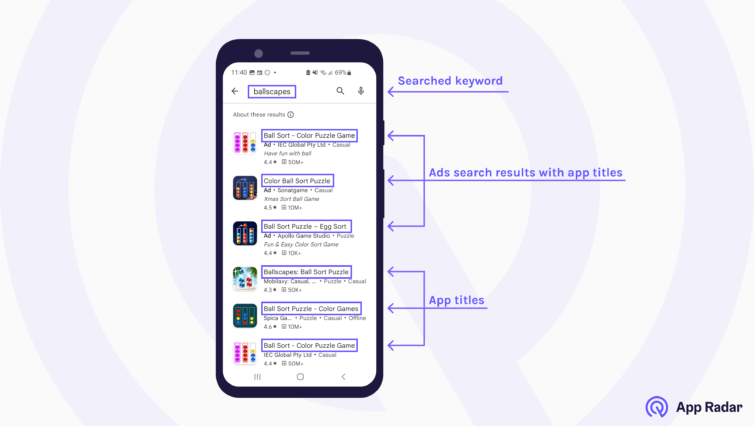 In the old days, app titles had a very long character limit, and people would use app titles to stuff them with keywords they wanted to rank for. Google kept decreasing the character limit, and today you can insert maximally 30 characters. So if you're going to get the most out of it, you have to be very strategic.
On the one hand, you will want to push your branded keywords so that people can recognize your name and brand. On the other hand, you will also want to target generic keywords important for specific Google Play categories.
You will also want to test your app titles for different localizations and update them when necessary. Although you only have 30 characters at your disposal, they can significantly influence your app store optimization efforts.
Short and long description
Short and long descriptions are metadata elements in Google Play Console where you have a chance to additionally familiarize your audience with your app. If you have taken care of the app title, you will want to invest some time in optimizing short and long descriptions.
The short description has a limit of 80 characters. App publishers use short descriptions to give more background information to the visitors of the Play Store listing. While not all users will notice it, Google Play will use the keywords in the short description to better understand what your app is about.
If you have used your app title to focus on your brand, you can use the short description field to place keywords people use to browse your category. You can also be more strategic with short descriptions – if you know there are mature keywords you don't rank for, you can put them in the short description. Or use it for testing your conversion install rate with A/B testing by using Google Play's Store listing experiments.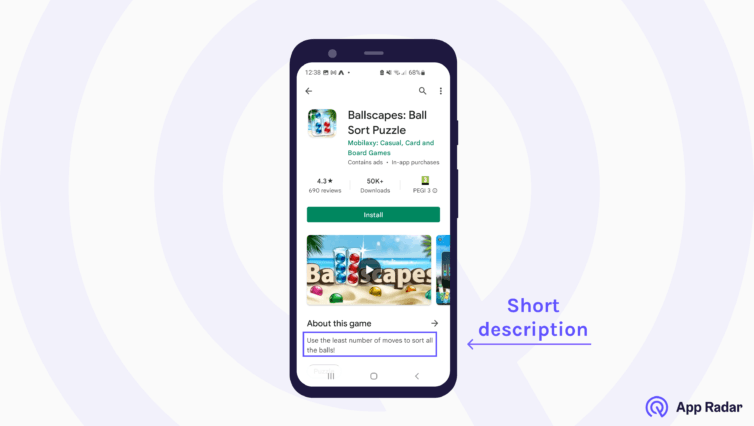 Long description in Google Play has a limit of 4000 characters. You have a chance to provide a detailed description of your app and give potential users reasons why they should install it.
Although you have much space to share your messages, most users won't read your long description all the time. Google will crawl the text you provide and notice the keywords you want to push. However, that doesn't mean you should stuff the text with keywords. Explain your features naturally and add a call to action for the readers.
Long description allows you to promote your app. Structure your text, including the most important keywords at the beginning of the long description, and use the first sentences to improve the conversion rate. Use your targeted keywords multiple times to help Google understand your app, but don't exaggerate.
Stuffing the text with the exact keywords over and over will get you penalized, so make sure to pay attention to it. Google is becoming more strict in its guidelines about what keywords are not allowed for using for app metadata and description.
App Icon
The Google Play app icon is not a direct ranking factor, but it is unarguably the most crucial element of your creative assets. Whether people come to your store listing directly or browse through the search using generic keywords, the app icon is an element they will always see. A visually appealing and aesthetic app icon will help your app stand out.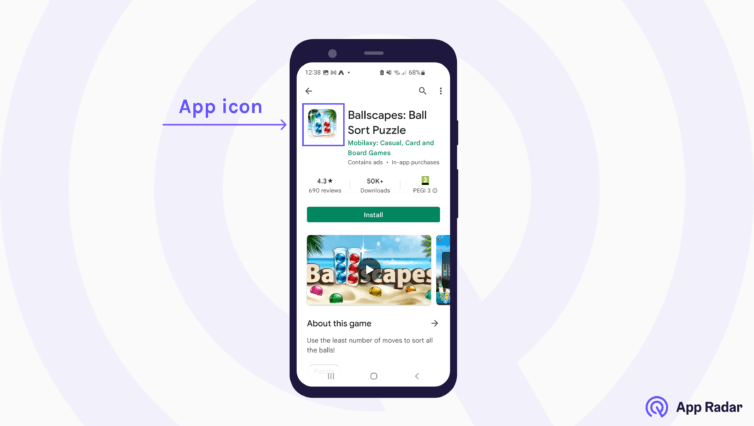 A nicely designed app icon will help you with conversion rate optimization. Since 2021, Google has introduced new policies that don't allow emojis, calls to action, and keywords that refer to performance (e.g., best, top, #1). This means that app marketers can't use app store icons to stand out from the competition as before, but that doesn't mean you shouldn't optimize them.
Make sure to follow the best practice when designing your app icon:
Use your brand's most recognizable elements – symbols and colors
Use graphic illustrations that explain visually what your app is about
Stand out on your own by following the visuals in your category, but don't copy the competitors
Remember – your app icon can significantly influence the appeal and conversion of your app, so make sure to invest your time in the proper app icon design.
Feature Graphic
Google Play feature graphic is the visual element used at the top of your app page or your store listing. Because feature graphic captures much space in a prominent position, they have the power to strongly influence your visitors and the installation rate.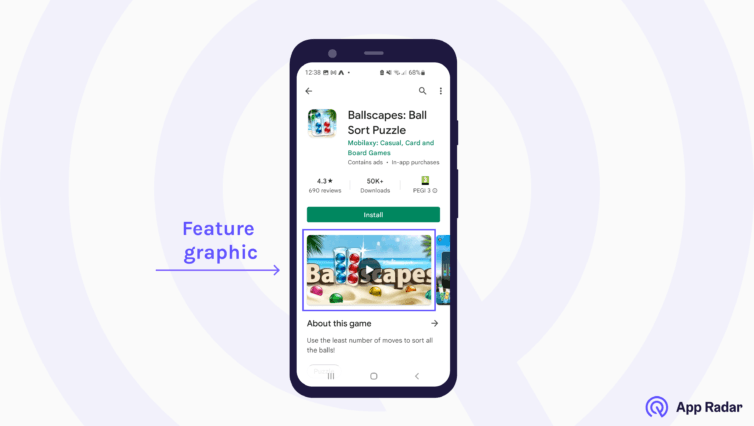 The goal of the feature graphic is to persuade your visitors to watch your promo video, and at the same time, it has to show your key message that is aligned with what you do.
If you use video to promote your app, Google Play will put the feature graphic on the top of your video (with a play button built in it). If you don't use a promo video, the feature graphic you provide won't be visible in your store listing.
Feature graphic is a mandatory asset and you need to upload it to your Google Play Console, even if you don't use a promo video with your store listing. However, some other situations show why feature graphic is essential:
They are displayed when you are doing brand searches
When Google recommends other apps, it will show their feature graphics
Google Ads uses feature graphics if you are running Google app campaigns
Because feature graphic is a significant visible asset presented before the app screenshots, you should invest some time in it.
Feature graphics should be aligned with your brand, app creatives, and identity. Google Play can promote your app, which means many people will notice the feature graphic. Google also provides guidelines that you need to follow when designing it.
To sum up, the best practices for your feature graphic are:
Make it consistent with your other visual elements
Have your key message shown in the feature graphic
Google can crop the outer parts of the feature graphic, so try to put the text elements in the middle of it
Don't stuff it with too much information
Use A/B testing in Google Play to find the best-performing version
Localize if you have multiple store listings. Seems obvious, but many app marketers don't think about this.
App Screenshots
Android App screenshots are an excellent opportunity to tell your potential users what your app does. When someone lands on your store listing in Google Play, app screenshots are placed at the most prominent place on the mobile screen.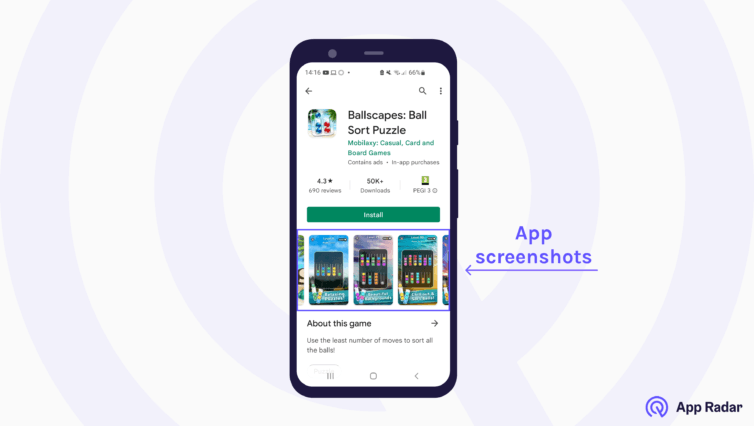 According to the research, the average time users spend on the store listing page in Google Play is 14 seconds. Because users tend to quickly scroll and skim the information on your page, you have to make sure that the first screenshots users see explain your app's most essential features and benefits. That way, you can capture their attention and interest early and increase the probability of installing your app.
You can upload the following screenshots to your app store listing:
up to 8 different screenshots for the phone
up to 8 various 7-inch tablet screenshots
up to 8 other 10-inch tablet screenshots
Note that if you use a video for your store listing assets, the video will be the first thing the store visitors see. After that, the users can see the screenshots.
We suggest you always test different screenshot combinations to find the one that brings the best results and installs. A/B testing in the Play Store should be an integral part of your app marketing strategy.
You can use a couple of best practices when testing your app screenshots.
If you are using messaging in the screenshots, check how your conversion rates change when the captions are shown in the top vs. the bottom part. You can also experiment with the style and size of the captions.
Check how the order of the screenshots influences the user experience.
Focus on the most popular features when you show in-app content in your screenshots.
Test the background colors that are aligned with your brand. Try with solid or gradient colors and authentic world images vs. abstract backgrounds.
Have a custom-designed style built into the screenshot images, e.g., images with multiple graphics in one image
Test the version with or without captions, partially or fully visible phone, or lifestyle images (e.g., when a person holds a phone in their hand).
Once you find your winning combination, you will notice how much influence the screenshots can have on your KPIs.
Google Play promo video is another type of asset that you can use with your store listing. Unlike the preview video for iOS users, the promo video is generally not shown during the search in Play Store.
The promo video is not a mandatory asset, so you might decide to focus on the images only. However, we strongly recommend performing A/B tests to check if a store listing performs better with or without a promo video.
You can't upload the promo videos to your store listing directly. You need to have the video already uploaded to your YouTube channel, and in the Play Store, you are simply putting a YouTube link. The good thing about this is that you can use YouTube analytics to optimize your video.
E.g., you might see that people watch only the first 10 seconds of the video and miss some of the features you show after the first 10 seconds. Armed with this insight, you can make your video shorter or create an overview of your app's essential features during the first 10 seconds of watching.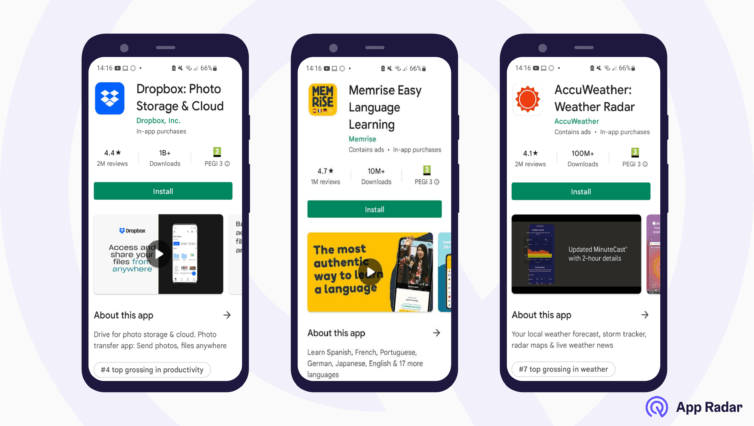 How much effort you are willing to put into creating your video is up to you. As you may already know, you can be very creative with the production and include simple animations, motion graphics, or live footage. What matters is to think in advance about what your users are expecting to see and not overengineer the promo video if it is unnecessary. We suggest you look at the competing apps to see the strategies they use with their video assets.
As we mentioned before, if you use a promo video, the first thing your store listing visitors will see is the feature graphic because Google Play will put it on the top of it.
Follow these best practices to get more downloads with a promo video:
If you have a game app, video is a must because it shows your game in live-action
Don't exaggerate the video length – make it no longer than 30 seconds.
Focus on the first 10 seconds of the video and show your benefits early on
Most users will watch the video on their mobile devices, so make sure that the video content is visible on smaller screens.
Localize your video if you cover multiple store listings. People generally speak English everywhere, but the local users will appreciate the effort and feel more comfortable when they read the captions in their language.
Think about the call to action (CTA) you can use. Most of the promo videos use CTAs at the end of the video, but we also know that many people don't watch the video all the way through. If you find a way to insert your call to action early enough, they might be more effective compared to the scenario when they are shown at the end of the video.
Promo videos can make a big difference to your app conversion rates, so invest some time in their creation.
Google Play Ratings and Reviews
Google Play ratings and reviews, directly and indirectly, impact your Play Store ratings. The higher ratings your app receives positively influence the conversion rates for a start. Because new store listing visitors see high app ratings, they are more likely to install that app and thus signal to Google that it is a good fit for the user intent.
Google officials have mentioned that ratings and reviews both influence the ranking algorithm, although we can't confirm to what extent. However, the indirect impact that ratings and reviews have on the Google Play rank is undoubtedly high.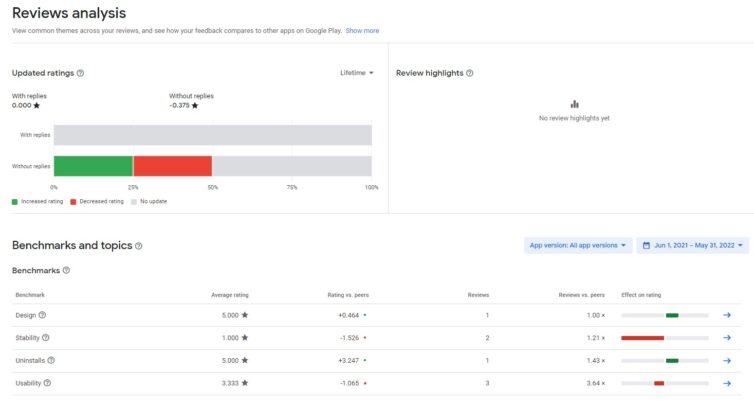 The apps that receive many ratings and with a high average star rating are often recommended by Google to other users and have a much higher probability of being featured in the Play Store. With more recommendations and features come more installs and a higher possibility to rank for new and highly competitive keywords. All this has a positive impact on new installs and more revenue for the app publishers.
The research also shows that most users are not willing to consider apps with less than 4-star ratings. Even those with less than a 4.5-star rating already have disadvantages compared to an app from the same category with higher ratings. In short, the app's ratings serve as a quantitative indicator of the app's quality and highly influence the download conversion rates.
A similar situation is also with Google reviews. Although they seem to have less impact on the download conversion rate, Google Play reviews show how users feel about your app from a quality perspective.
Review management is vital for the further discoverability of the app. Once the app has more presence and a decent number of reviews, the positive reviews contain the keywords connected to your app. Positive reviews that link your app to specific keywords mean you will be relevant for more keywords and have more rankings.
Finally, there is no better way to improve your users' satisfaction than showing that you care. Replying to bad reviews and helping your users solve their problems and concerns is the best way to keep a happy audience. We suggest you have an active strategy about how often and how to nurture your users through the review management.
It can be pretty challenging to reply to all bad reviews, especially if the app is in the mature cycle with thousands of reviews. However, having an active community means that you will often get early signals when something is not right with your app. And if you know that something important is not working, you can prioritize bug fixes and updates. If you respond to a user with empathy and offer constructive feedback or a helpful suggestion, the user can change and improve their rating and review.
To sum up this section – ratings and reviews play a significant role in your app's discoverability, user satisfaction, Google play promotion, app installs, and conversion rate. The mobile app users will appreciate apps that match their expectations, have excellent user experience, and will help you to use their feedback to keep growing your app.
A quick tip: you can use App Radar to reply to reviews directly from the tool using pre-made templates, which saves lots of time dealing with app reviews daily.
Stay on Brand and Respond to User Reviews Faster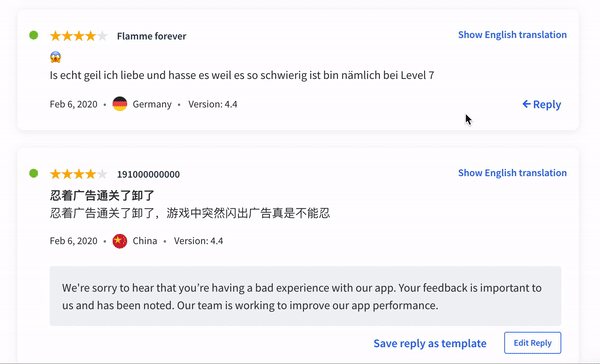 Create reply templates that match your app brand's tone of voice and overall branding.
Reply promptly to keep users happy.
Create a Free Account
Google Play Android Vitals
Android vitals are an essential part of your app store optimization strategy. They consist of multiple technical elements necessary for your app:
Core vitals (ANR rate, crash rate, Stuck partial wake locks, and Excessive wakeups)
Stability issues
Start-up and loading times
Rendering issues
Battery problems
Core vitals have high importance because these are metrics that can directly impact the app's visibility and rankings in Google Play. As a result, Google Play gives more value to apps and games that provide excellent user experience measured by health Android vitals. Because many different mobile devices use the Android platform, your app developers need to ensure that the app is supported and issues like battery consumption are considered.
The official Google Play documentation states that "exhibiting bad behavior in vitals will negatively affect the user experience in your app and is likely to result in bad ratings and poor discoverability on the Play Store."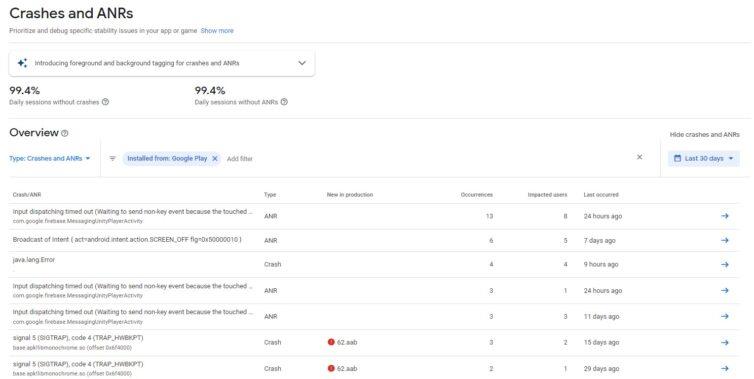 Android vitals point to the issues from the technical perspective and limit user experience. ANR rates (App Not Responding) are among the most common issues that Google flags as critical issues. By addressing these problems on time, you will be able to solve them before your users notice them and start writing bad reviews that influence other users from downloading your app.
So how do bad Android vitals influence your store performance exactly?
For a start, unhealthy Android vitals will be used by Google to penalize your app by downgrading your keyword rankings and limiting the exposure in the Play Store. The Explore or Browse traffic (users who found your app browsing a category or similar app suggestions) will go down first because the Google Play Store algorithm won't push the app. As a result, there will be fewer store listing visitors and acquisitions from the Browse traffic.
Based on the research performed by Phiture, unhealthy Android vitals don't have an impact on the search traffic as much as they do on the Explore traffic.
So, to sum up – if you are an app marketer, your role is to closely monitor how Android vitals are moving and work actively with your developers to make sure that the technical performances don't impact your rankings. Fixing the performance issues on time will ensure that your users have a better experience and higher ratings, which will lead to more installs.
Google Play Pre-registration
The Pre-registration in Google Play is the option for app publishers that still haven't released their app. Using the pre-registration campaign, the app marketers can work on the pre-launch and create awareness for the app before the official launch.
The pre-registration campaigns can last a maximum of 90 days, after which you have to launch your app in the Play Store. To make your app eligible for pre-registration, you will need to share more information about the app's content and make sure you comply with Google play policies and legal requirements.
Google limits the pre-registration status to a maximum of two apps simultaneously. But app publishers can also set some limits, such as making an app available only for specific devices. And to promote the new app, you can offer a free app product for the people that pre-register for your app.
Once your app is officially launched, the pre-registered users will receive a push notification to download the app. Automatic downloads are also available, but they depend on the age group of the users, type of accounts, and app size.
The Google Play Console will also report the data on the pre-registration campaigns. You will see the number of pre-registered users and the number of users that convert, that is, the users that download the app due to being pre-registered.
From the app marketing perspective, it is important that you optimize the Google Play listing for your app, even if it is not available for download. Users will decide if they want to pre-register based on the app screenshots or app promo video quality. The keywords you put in your metadata will impact the ranking in search results, even though the app is still in the pre-registration status.
If you plan to make your app available for pre-registration in, e.g., Germany, you also want to localize the store listing to the German language.
Finally, think about how you can promote your app before its launch. Spread the words around social media and your website and if you have enough budget, launch a Google app campaign for pre-registration.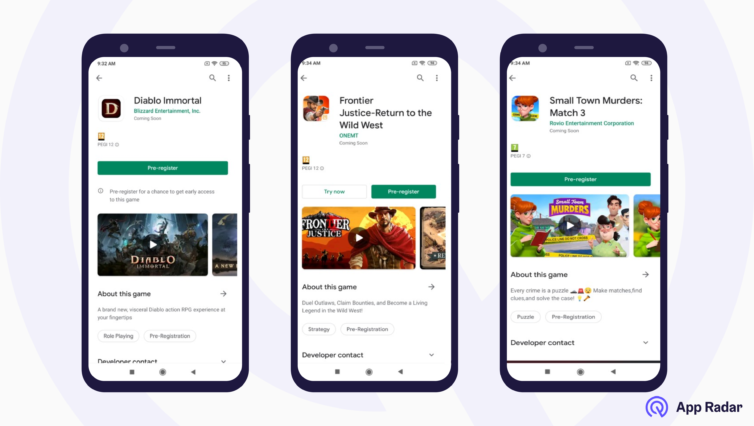 If your app is already available in one or more countries, your app is no longer eligible for the pre-registration campaign.
Getting featured in the Play Store
Being featured in Google Play can have a significant impact on your downloads. There is a couple of places where your app can be featured in Google Play:
Editor's Choice – apps or games selected by Google Play staff editors
Hero Banner – A showcased feature graphic of the app
New/Updated/Games We Love presenting a set of apps or games
Collections – apps that follow a common theme
New and recently updated apps
Featured popular apps – top game/app, top grossing, trending, top-selling
Google Play wants to serve the users with the right kind of content and apps that stand out from the others.
If you want to get featured in the Play Store, there are some elements that you need to consider in advance:
Google Play has an editorial team that selects the apps to be featured. Reaching out to the representatives of Google Play will increase the chance of getting featured.
The algorithm of Google Play also considers your category, keywords, and metadata, but some elements are outside of your direct control.
Apps with high ratings, healthy Android vitals, and meet Google Play guidelines have more chance of being featured.
App store optimization plays a role as well. You need to have optimized your store listing page, including landscape screenshots and localization for target markets.
You can actively pitch your app and the idea behind it to Google Play. Prepare simple documentation that explains why your app is an excellent choice for the users.
Having a product that enhances user engagement will help you get featured.
So overall, the impact of being featured on the Play Store increases the app visibility, increases your brand awareness, and communicates the quality of your app. Play Store users can also download many featured apps directly from the featured tabs, shortening the app's user journey.
Once you get featured in the Play Store, the immediate effect you will see in your Google Play Console should spike in "Browse" impressions or in "Explore" store listing visitors and downloads.
As a piece of final advice, we suggest you have a strategy and process to measure the effects of being featured. Since getting featured can influence your downloads a lot, you want to be sure that the effort you invest in it can pay off. App Radar monitors when and how often your or competitors' apps get featured, which is excellent for understanding how this promotion works in your market.
Expert tip: Google Play is releasing LiveOps cards, another tactic you can use to boost your app visibility across the whole Google Play Store.
Google Play Console
Google Play Console is the reporting platform for Play Store apps and Android devices. It provides app publishers and app marketers with first-party data and analytics.
App developers use Google Play Console to test, publish and track the performance of their apps. App marketers use the platform to optimize their store listings and improve quality elements and conversion rates.
Google Play Console allows app marketers and ASO teams to optimize all the elements mentioned in the above sections in this article:
The Main store listing tab is where app metadata and creative assets are managed for each localization. Under this tab, you can add or update the app title, short and long description, app icon, feature graphic, app screenshots, and promo video.
Custom store listings allow you to target specific countries with customized pages.
Store listing experiments give a chance for A/B testing directly in the Play Store and get a handful of valuable and reliable data.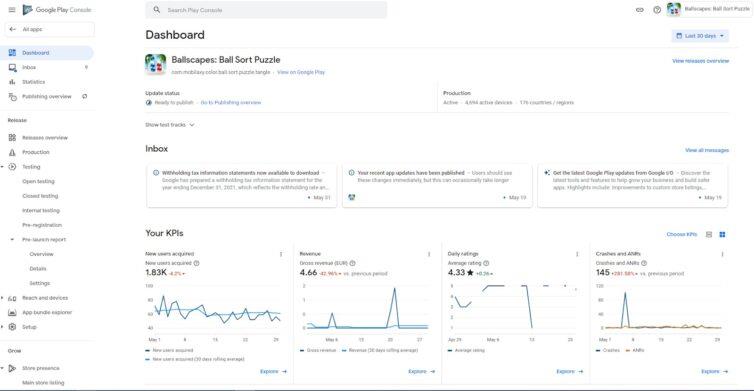 All the data and analytics your Play Store listings generate are gathered under the Store and Conversion analysis tabs. You can use multiple filters to break down that data and focus on the things that matter to your app the most. We have a dedicated article that explains what Google Play Console is and how to use it to improve your app store optimization.
Expert tip: the updates you make in the Play Store are usually live within one hour after the "Update button." The app review time is quite different from App Store Connect, where the approval process can take up to one week in some cases.
Another important reason you should use Google Play Console is that you can manage the quality aspects of your app. Inside the platform, you will find all the information on your app's ratings, reviews, basic sentiment analysis, and the technical status of Android vitals we mentioned before.
The biggest downside of Google Play Console is getting lost while navigating through many different tabs. Improving each app element consumes time, and specific data points are difficult to find.
App store optimization tools like App Radar have a native integration with Google Play Console and allow you to pull the data in the app platform. Instead of browsing through many different tabs and sections, inside App Radar, you can analyze the Play Store and compare it with other app elements. Also, instead of optimizing your metadata for different localization one by one, you can do it directly in App Radar's store listing editor and save your time resources.
Best practices for Google Play Store app optimization
There are many elements in the Play Store you have to work on if you want to stand out from the other apps in your category. Your product strategy needs to reflect everything around your app and how it evolves.
To start, follow the app store optimization practices outlined in this article. Understand what drives the app store performance of your competitors and the top apps in your category. Once you understand this, work on your metadata and assets optimization.
When your app becomes more established, you should include testing loops and work on improving the conversion rates. Try to use in-store promotions such as app featuring to improve your Explore traffic and increase the number of downloads you receive.
Always keep track of the quality aspects of your app. App ratings and reviews are the ultimate feedback that shows how satisfied or unsatisfied your users are. And by keeping technical elements of Android vitals under the prescribed threshold, you will ensure your app is ready for conquering the Play Store.
Finally, this article is only scratching the surface of all the things you can work on to further improve your app store performance. If you are serious about learning app marketing best practices, head over to App Radar's academy and explore supporting topics.
And if you want to push your app to the next level, try out App Radar's app marketing tool that gives you everything you need to optimize your app.
console google play,
play console,
google play developer console,
play store console,
google play developer,
playstore console,
google play store console,
google play console login,
android developer console,
google developer account,
play developer console,
play store developer,
google play developer account,
google console account,
google play store developer,
console playstore,
play store developer console,
google play console sign in,
google app console,
android developer account,
google play dev console,
google developer account sign up,